Cuadrilla applies to frack at Roseacre Wood site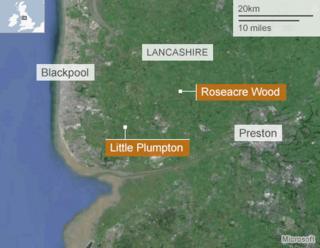 An energy firm has submitted a second planning application to frack for shale gas in Lancashire.
Cuadrilla has applied to Lancashire County Council (LCC) to hydraulically fracture for gas at four exploration wells on its Roseacre Wood site.
It submitted a similar application last month at its Preston New Road site in Little Plumpton.
LCC said it will make a decision within 16 weeks. Anti-fracking campaigners claim it is harmful to the environment.
Fracking - or hydraulic fracturing - is a technique in which water and chemicals are pumped into shale rock at high pressure to extract gas.
'No further work'
The firm has applied for permission to drill, hydraulically fracture and test the flow of gas at both sites.
It already has a licence to test drill for shale gas in the Bowland Basin, a 746 sq miles (1200 sq km) site in the Lancashire area.
Cuadrilla said it was now concentrating on Preston New Road and Roseacre Wood and has no plans to frack in its other sites.
In December, the firm said no further work would take place at Preese Hall, near Weeton.
It has also confirmed it would not frack at Becconsall well, near Banks, Grange Hill, Singleton or Anna's Road site in St Annes.
The firm said it will conduct pressure testing and install monitoring equipment at Becconsall and Grange Hill subject to planning approval from LCC.