Teachers at Leyland school strike as head returns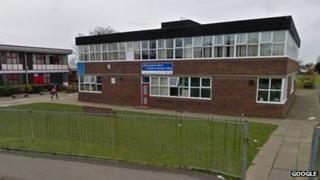 Teachers have taken strike action after an investigation into "poor management practices" at a school concluded no further action was needed.
Staff at St Mary's Catholic Technology College in Leyland, Lancashire, raised "deep concerns" over the way the school was being run.
An earlier strike was halted after head teacher Kathy McNicholas announced a leave of absence.
But teachers again decided to walk out after Miss McNicholas returned to work.
The school said "no further formal action" was necessary following the conclusion of an independent investigation.
'Work related stress'
In a statement, the NASUWT union said its members at the school were striking following a "failure to resolve their deep concerns over poor management practices".
It added: "Extensive efforts have been made to resolve the problems with the head teacher, the chair of governors and the local authority, but they have continued to fail to exercise their duty of care towards the staff.
"The problems at the school have caused work-related stress and are affecting the health and well-being of staff. Despite promises by the employer to address the well-being of staff, no action has been taken."
The dispute comes nine months after a fire gutted the building, meaning some pupils had to be taught at a site in Preston until January.
A letter sent to parents and published by the Lancashire Evening Post said 31 of the school's 54 teachers were taking part in the strike.
Kathleen Cooper, chairman of school governors, said they were "working hard" with county council advisers to "strengthen some of the relationships within the school".
She added: "My sincere hope is that we can move on from this difficult period and concentrate on providing a stable and happy school environment for our students as the physical rebuilding of the school begins."
The strike meant Year Nine students had to stay at home for the day, while Year 10 pupils had to leave school at 1pm.