Evacuated Burnley Primary School to reopen after pupils receive electric shocks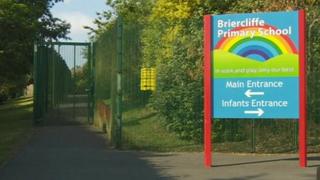 A school in Lancashire where 13 children and a teacher received electric shocks after a power cut in the area is to reopen.
Briercliffe County Primary School in Burnley was evacuated on Wednesday after the shocks, understood to be from live metal items including door handles.
Five pupils aged between seven and 11 and a teacher were taken to hospital.
The school said the power has been restored and it will reopen on Friday.
Electricity Northwest confirmed 38 customers had a power cut in the area at the time of the incident but power was now back on for all customers.
The electricity firm said it was working with the school and the Health and Safety Executive on the investigation into the cause of the incident.