Blackpool's Sir Peter Blake sculptures return to seafront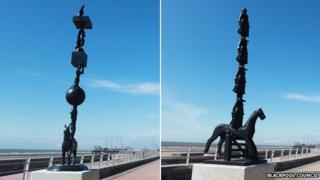 A pair of Sir Peter Blake sculptures have been returned to Blackpool's seafront, three years after they were damaged by thieves.
The bronzes Four Man Up and Equestrian Act were removed from the Promenade after parts were stolen in 2011.
A town council spokesman said the new pieces were made from resin, which "holds no value to metal thieves".
He added that the removed bronzes would be restored and put on display in a "secure space in the near future".
The two sculptures depict a variety of circus performers and make up one work, entitled Life As A Circus.
Speaking at the time of the theft, Sir Peter said it was "so silly to steal something just for the value of the bronze".
"You wouldn't get a lot for it. So it's such a daft robbery."
The artist, who is best known as the co-creator of The Beatles' Sgt Pepper's Lonely Hearts Club Band album sleeve, also designed the statue for the BRIT Awards in 2012.