Skelmersdale boa constrictor reported missing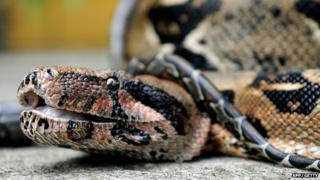 An 8ft (2.4m) snake, believed to be a boa constrictor, is on the loose in a Lancashire town.
Lancashire Police said the snake was reported missing by its owners in Skelmersdale at 09:30 BST on Tuesday.
Insp Mark Porter said: "While we do not believe the snake is aggressive or would attack anybody there is the potential for risk to small children or pets from the animal seeking warmth."
Experts have told police the snake may have found somewhere to sleep.