Edge Hill University honours comedian Johnny Vegas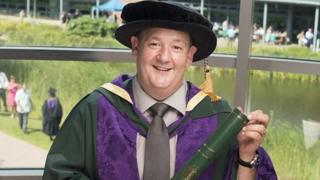 Comedian and actor Johnny Vegas has been awarded an honorary doctorate from a Lancashire university.
Vegas, whose real name is Michael Pennington, was given the award at a ceremony held by Edge Hill University, Ormskirk.
St Helens-born Vegas, 44, began his career in 1995 and went on to win the Festival Critics Award at the Edinburgh Festival two years later.
He is one of seven people honoured this week by the university.
Vice chancellor Dr John Cater said: "Michael, or Johnny as most will know him, is a talented writer, producer and artist, has links with the university and has become a household name in the world of comedy and entertainment."
Women's rights activist Dr Helen Pankhurst, composer Sir Harrison Birtwistle and the founding singer of Ultravox, John Foxx, have also been awarded honorary degrees.
Chorley-born Foxx, real name Dennis Leigh, formed his first band at Preston Art College.