Burnley three-car crash on M65 leaves two dead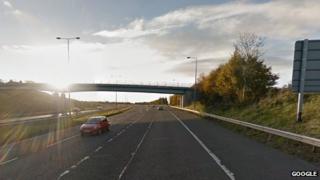 Two men have been killed in a three-car crash on a Lancashire dual carriageway.
The victims died when their Peugeot 106 collided with two other cars on the M65, leaving two of the vehicles overturned.
The crash happened at about 02:15 BST on Saturday, involving the Peugeot, a Renault Clio and a Citroen C2, all travelling towards Burnley between junctions 9 and 10.
Both men, aged in their late-40s, died at the scene.
The driver of the Renault was taken to Royal Blackburn Hospital with minor injuries. The driver of the Citroen was uninjured.