Cycle deaths rise 'may reflect Olympic cycling boom'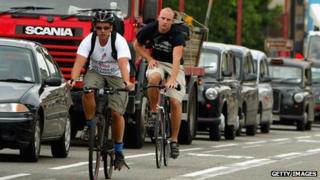 A sharp rise in the number of riders killed on Lancashire roads may be due to more people taking up cycling after the Olympics, a council said.
Lancashire County Council said 100 riders were killed or seriously injured in 2013, compared with 68 in 2012.
To reduce the number of accidents the council said it was investing £1m in road safety measures.
These include installing special mirrors at junctions to make cyclists easier for motorists to see.
The so-called Trixi mirrors are fitted to traffic lights, and give drivers a better view of cyclists on their left-hand-side.
They have been installed at three junctions in Lancaster and will eventually be put up at eight accident blackspots across the county, the council said.
Child casualties down
Figures released by the Institute of Advanced Motorists (IAM) show that Lancashire had the biggest increase in the country in road accidents in which someone was killed or seriously injured (KSI).
The figures show that in 2013 there were 642 KSI accidents in the county, an increase of 72 on the previous year.
Councillor John Fillis said the long-term trend for road casualties in Lancashire was still "strongly downwards".
"In 2013, 26% fewer people were killed and seriously injured than just four years before, when the yearly average was 873," he said.
The council said the IAM figures also hid the progress it had made to reduce the number of child casualties.
Accidents involving children had been more than halved over four years, it said, from an average of 119 per year between 2005 and 2009 to 57 in 2013.