Couple's 51st return to Blackpool for seaside holiday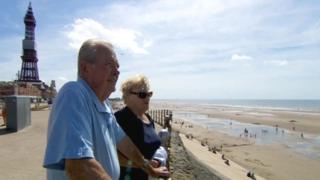 A north Wales couple are celebrating their golden wedding anniversary in Blackpool, which they have visited every year since they married.
Raymond and Dorothy Bartley from Denbigh spent their honeymoon in the Lancashire seaside town in 1964 and plan to keep returning.
Mr Bartley, a retired psych­iatric nurse, said: "There's something that pulls you to Blackpool every year."
Special memories include their son taking his first steps in Stanley Park.
The couple have stayed in a flat near Stanley Park and different hotels over the years, but have been coming back to the same hotel for the last 15 years and have "many happy memories".
"A few years ago it went downhill a bit, but Blackpool is on the up and up," Mr Bartley said.
"As long as Dorothy's feet and my feet bring us here, we'll be coming back."