Bamber Bridge priest orders 'kisses' off gravestone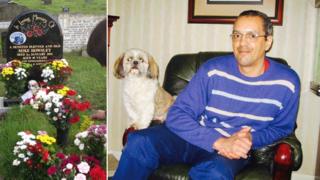 The inscription "sleep tight Dad xx" has been banned from a headstone in a Catholic churchyard in Bamber Bridge, Lancashire.
Mike Howsley's family was told the wording on his headstone was inappropriate for the graveyard at St Mary's Roman Catholic Church.
His partner Janet Corless said: "This has been very traumatic for me. Mike died right in front of me."
A statement from the parish priest said there had been a "miscommunication".
Ms Corless said there were other gravestones with similar sentiments but claimed she was told the present parish priest did not want such comments on graves.
"When Mike died in January, I was getting great comfort from going back into the church.
"I go everyday but now I just don't want to go anywhere near," she said.
Priest's statement
Ms Corless said the words "sleep tight" and the two kisses were going to be blacked out.
A statement from parish priest Father George Corrie said: "We are very sorry there has evidently been a miscommunication regarding the appropriate wording for Mr Howsley's headstone.
"We will seek to work with the family to put up a plaque which complements what is already on the headstone and gives them comfort," he said.
Fr Corrie said church law required the "sacred character" of a Catholic Christian graveyard should be preserved and parish guidelines included suggestions about "inscriptions which reflect Catholic belief in the resurrection."