Preston Guild Hall could become restaurant complex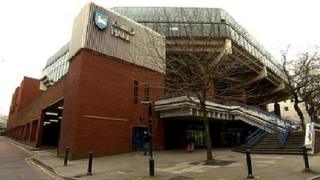 An entrepreneur's plan to redevelop Preston's Guild Hall into an Italian restaurant and conference centre has been submitted.
The hall was sold to Preston businessman Simon Rigby last month as the city council looked to save money.
Mr Rigby, who runs a number of catering and entertainment businesses, paid an undisclosed amount for the venue.
The plan to transform the site will be open to comments from the public before a decision on it is made.
The developer promises to respect the heritage of the area, which features several old buildings including the Grade I-listed Harris Library, Museum and Gallery.
Had to close
The application also outlines plans for a large digital TV screen on the front of the complex.
The Guild Hall opened in 1972 with Led Zeppelin, David Bowie and Queen having performed in its Grand Hall, which was once the regular home of the UK Snooker Championships.
Council leader Peter Rankin said without the sale, the complex would have had to close as it could no longer afford the £1m annual running costs.
Planning documents submitted by the developer said: "Preston Guild Hall will provide a premier entertainment venue for Lancashire, a new Italian restaurant, banqueting, conference facilities, a coffee shop and a hub for new start-up businesses."
People have the right to make objections to the changes before 3 September.