Lancashire Police start five-week knife amnesty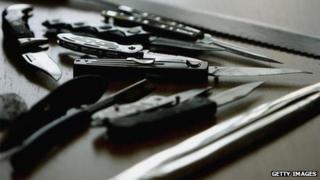 Police have launched a knife amnesty after new figures showed there were almost 4,000 blade-related offences in Lancashire over four years.
The five-week scheme will see amnesty bins placed at 10 police stations across the county.
Lancashire Constabulary said there were 3,712 offences involving knives between April 2010 and March 2014.
Assistant Chief Constable Mark Bates said: "Carrying a knife in public will not be tolerated."
Of the recorded offences, 321 were for woundings, 612 were possession of knives, and 459 were knife-related public order offences.
'No massive problem'
However, police say knife crime is falling in Lancashire, with 845 offences recorded in 2013, compared to 1,004 in 2011.
"We do not have a massive problem with knife crime, but a knife is a lethal weapon and even one on Lancashire's streets is one too many," Assistant Chief Constable Bates said.
The amnesty bins are located at stations in Blackpool, Lancaster, Fleetwood, Morecambe, Burnley, Blackburn, Colne, Preston, Chorley and Skelmersdale.
The project has been funded by police and crime commissioner Clive Grunshaw, using money seized from criminals through the Proceeds of Crime Act.
Mr Grunshaw said: "No-one should live in fear of knives being used in their community, and I hope anyone in possession of an offensive weapon will use this opportunity to protect both themselves and those around them, by handing it in."
The maximum penalty for an adult found in possession of a knife is four years in prison and a fine of £5,000.