Salmon found near Burnley for first time in decades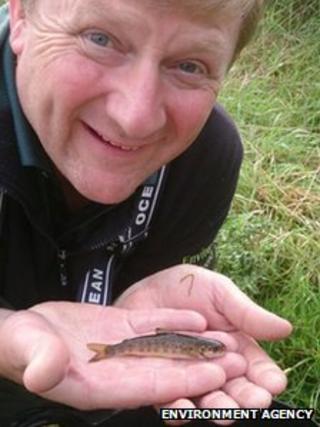 Salmon have been found in a stretch of a Lancashire river for the first time in almost 60 years.
It follows the removal of a weir on the River Calder constructed in the 1950s in Padiham near Burnley.
The Environment Agency made the discovery while sampling water quality and fish stocks in the area.
Dan Bond, from the public body, said water quality had "improved significantly" since the weir, a power source for local industry, was removed.
He said: "Padiham was a heavily industrialised area, with the weir built to control the abstraction of water for the nearby Padiham Power Station."
The weir was removed in 2010 and rock pools were built to allow salmon and other migratory fish to move upstream.