Four hurt after Ocean Edge caravan park assault in Heysham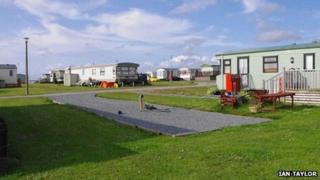 A woman suffered serious head injuries following an assault at a caravan park in north Lancashire, and three other people were hurt in a series of road accidents which followed.
The 32-year-old woman was assaulted at the Ocean Edge Leisure Park in Heysham on Saturday evening, police said.
A short time later a car was involved in a series of accidents, which left one man critically ill in hospital with serious head injuries.
A 45-year-old man has been arrested.
Police said a 42-year-old man sustained serious head injuries when he was struck at the entrance to the caravan park by a dark coloured Ford Fusion being driven from the scene of the first assault.
He is currently in a critical condition at the Royal Preston Hospital.
A 53-year-old man walking his dog suffered minor injuries when he was hit by a car at Half Moon Bay. Police believe it was the same car.
Fifteen minutes later a 36-year-old woman driving a Peugeot 207 also suffered minor injuries when her car was involved in a collision, with a car thought to be the same one involved in the earlier incidents.
A man has been arrested on suspicion of attempted murder, dangerous driving, failing to stop after a collision and drink driving and is currently in custody.
Det Supt Sue Cawley said: "Two people have been left with extremely serious injuries following this incident and others have also been injured, fortunately less seriously.
"I would appeal to anyone who has any information to get in touch with the police."