Killer Paul Chadwick's claim to partner's £80k estate dismissed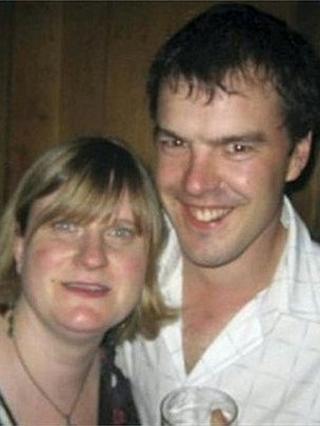 A man who was detained in a mental health unit for killing his partner and their child has had his claim to £80,000 from her estate dismissed.
Lisa Clay and Joseph Chadwick were stabbed to death at their home in Bolton-le-Sands, Lancashire last year.
Paul Chadwick, 35, had told Manchester's High Court his partner would have wanted him to inherit the cash but he was not motivated by money.
He was not in court to hear Judge Mark Pelling QC read his written judgement.
Chadwick, formerly of Lowlands Road, admitted two counts of manslaughter on the grounds of diminished responsibility and was sentenced at Preston Crown Court in October to an indefinite hospital order.
Chadwick, who also attempted to kill himself before the bodies of Ms Clay, 40, and Joseph, six, were discovered, was allowed out of a secure mental health unit to argue his case in court on Monday.
Ms Clay had made a will in which she said all her assets would transfer to Chadwick in the event of her death.
The law states those convicted of murder or manslaughter cannot inherit from their victims or profit in any way from their crimes.
However, the forfeiture rule can be modified to take into account the conduct of the offender, the deceased and any other relevant material concerned.
Chadwick's claim was opposed by the estate's beneficiaries, Ms Clay's extended family.
'Brutal crime'
His barrister Michael Whyatt had argued the estate was "modest" and "small amounts of money scattered thinly are going to make less difference than to give the complainant some potential to rebuild his life after he is released".
The claim had been for half the proceeds of any future sale of the bungalow Chadwick jointly owned with Ms Clay, her half of £60,000 and £20,000 of her assets.
Dismissing his claim, Judge Pelling said: "The justice of this case does not require that I modify the forfeiture rule.
"In those circumstances, the claim is dismissed."
He said there was "sufficient culpability to justify the application of the forfeiture rule" and the evidence available "does not establish that the abnormality from which the claimant was suffering caused [him] to kill either the deceased or his son".
In deciding his ruling, he said he had also considered the fact the majority of the estate was funded "by what the deceased had been given by her late mother".
He added that Chadwick would "have his share of the property and a half share of the sums" in his and Ms Clay's joint account at the date of her death and that difficulties he would have finding work on release "do not outweigh" the other factors in the case.
Speaking outside court, the lawyer for Ms Clay's family, Keith Etherington said: "It's the end of a 10 month ordeal where they've had to relive the most harrowing of facts from a very brutal crime."
---
At the scene
Dave Guest, North West Tonight chief reporter
It's the sort of story that can lead the reader to conclude: "the world's gone mad". A man stabs his partner to death and then claims he's entitled to inherit her estate.
Paul Chadwick used his mental state at the time of the killings to argue his case for claiming Lisa's money.
She'd made him the main beneficiary in her will. Normally such bequests are invalidated by the so-called forfeiture rule. It aims to prevent those convicted of manslaughter gaining financial benefit from their victim. But in some circumstances that rule can be modified.
But Judge Mark Pelling QC rejected it and said the "nature and gravity" of the offences weighed against modifying the forfeiture rule.
---