Canada secures top spot in World Fireworks Championships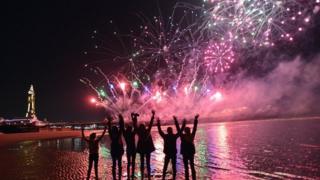 The Canadian team has secured top spot in the World Fireworks Championships being held in Blackpool.
The Firemaster Productions team saw off Sweden and Austria to be named the winner of the annual event.
Sean Morris, from the Canada team, said they were "proud" to be invited and winning was "an absolute dream".
There was no repeat of a mass brawl involving up to 500 youths, which took place during Canada's display last Friday resulting in 12 arrests.
Three police officers were injured as rioting youths pelted them with missiles including bottles after fighting broke out in Bank Hey Street and Victoria Street.
It is the fourth year the resort has staged the championships.