Placenta and umbilical cord found in Preston Cemetery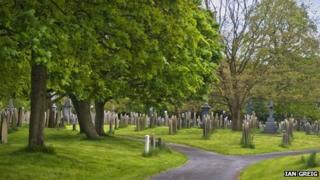 Police have appealed for a vulnerable new mother to come forward with her baby after what is thought to be a human placenta and umbilical cord were found at a cemetery.
They were found by a worker at Preston Cemetery at about 09:30 BST.
Police said there could be a "vulnerable mother and young baby who need medical attention" and are appealing for information.
Tests will take place to confirm the placenta and cord are from a human.
Insp Keith Lee said: "While it is not clear how these remains came to be left in the cemetery, I think it is likely there is a vulnerable young mother out there and possibly a new baby.
"If that is the case then I would appeal directly to them to come forward and contact police.
"We are not here to judge but it may be that the mother and her baby need some medical help."