Preston Cemetery placenta tests reveal baby boy birth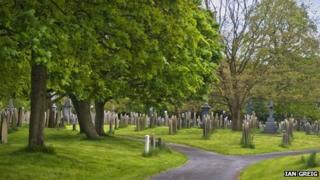 A human placenta and umbilical cord found at Preston Cemetery are thought to be that of a baby boy and his mother.
They were found by a worker at the New Hall Lane site on Friday morning.
After initial tests revealed the presence of male DNA, further investigations to establish the mother's identity are under way.
Police said they believe there could be a "vulnerable mother and young baby who need medical attention".
Chief Insp Geoff Hurst: "We are not here to judge. This is about finding whoever has left these remains here and make sure they are safe."