36,600 pink-footed geese counted at Martin Mere reserve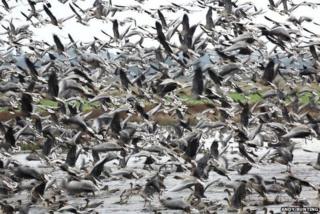 A record number of 36,600 pink-footed geese have been counted at a Lancashire nature reserve.
The birds, which have flown hundreds of miles from Iceland to Martin Mere Wetland Centre in Burscough, were spotted at the site on Sunday.
Tom Clare, the reserve's manager, said he counted the birds by breaking the site up into sections and tallying them 100 at a time.
He said: "The birds were quite settled so I'm happy with the accuracy."
The centre said about 300,000 pink-footed geese spend their winter in the United Kingdom.
The birds nest in Iceland and migrate to Britain in autumn to spend the winter months in a milder climate.