Ibrahim Master: Lancashire's deputy police and crime commissioner investigated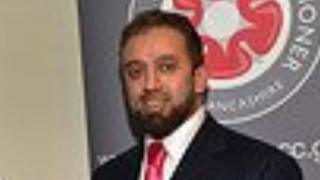 Lancashire's deputy police and crime commissioner (PCC) is being investigated over claims of misconduct.
The Independent Police Complaints Commission (IPCC) said it was looking into Ibrahim Master's actions in relation to a domestic incident.
After the incident in August, police arrested a 49-year-old man from Blackburn, and two other men were spoken to about alleged harassment.
Mr Master, 56, was not arrested and "strongly denies" any misconduct.
On Facebook, he wrote: "I welcome an open, transparent, fair and impartial investigation by the Independent Police Complaints Commission because I know I haven't done anything wrong whatsoever and I strongly deny any misconduct.
"I am satisfied that any investigation will support this and that I will be fully vindicated at the end of all this."
The PCC watchdog - the police and crime Panel - referred the matter to the IPCC in "accordance with regulations" after it was contacted by Lancashire Police.
---
Analysis
Chris Rider, BBC Radio Lancashire political reporter
This is yet further controversy involving the office of the Police and Crime Commissioner (PCC).
Ibrahim Master was appointed as deputy to PCC Clive Grunshaw, an appointment that was not welcomed at the time by Conservative members of the police and crime panel.
Mr Master is well known around Blackburn and for some time was chairman of the Lancashire Council of Mosques.
The events are not clear but we do know that in August Mr Master went to a relative's home where there was some kind of domestic dispute and police attended.
Now Mr Master, there to scrutinise the role of chief constable, is under scrutiny himself.
---
An IPCC spokesman said: "We are conducting an assessment to determine whether the matter is something that requires an investigation involving the IPCC."
The 49-year-old man who was arrested as part of the domestic incident investigation has been bailed pending further inquiries.
A Lancashire Police spokesman said: "During the course of the investigation two other men, aged 56 and 58 from Blackburn, voluntarily attended a police station and were spoken to about alleged harassment.
"They have not been arrested and inquiries are continuing into this aspect of the investigation."
The police spokesman said the chief constable referred "a complaint over the conduct of Deputy Police and Crime Commissioner Ibrahim Master in relation to an ongoing police investigation" to the Police and Crime Panel.
Lancashire Police and Crime Commissioner Clive Grunshaw said: "As this matter is ongoing it would be inappropriate for me to comment further at this time."