Eric Morecambe statue: Police probe suspected theft attempt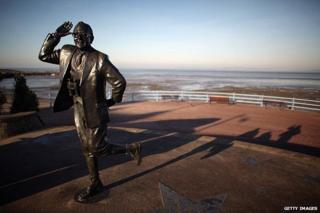 A suspected attempt has been made to steal the Lancashire seafront statue of comedy legend Eric Morecambe.
Police believe someone tried to saw through one of the legs of the statue on Marine Road Central, Morecambe, at about midday.
The council has now removed the statue and the area has been fenced off.
A 32-year-old man from Morecambe has been arrested on suspicion of attempted theft. Police are asking for any witnesses to contact them.
The statue of the much-loved comedian - who with Ernie Wise formed the famous double act - was unveiled by the Queen in 1999.
Morecambe died on 28 May 1984, after collapsing on stage with a heart attack shortly after his 58th birthday.