Accrington crash leaves 14 children fatherless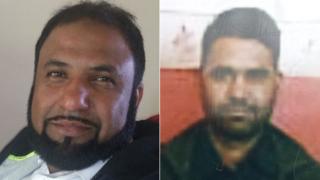 Fourteen children are without a father after the death of two men in an east Lancashire car crash.
Accrington men Aurang Zeb Khan, 42, and 43-year-old Rafique Khan were killed when their car was in collision with a Mercedes on Friday.
Aurang, a father of three, was driving a Vauxhall Vectra when the crash happened at the junction of Hyndburn Road and Oxford Street.
Rafique, who had 11 children, was his rear-seat passenger.
His family said he would be "greatly missed" by all his family and friends.
Aurang Zeb's family said he was "taken too soon and will be forever missed".
A second passenger in the Vauxhall Vectra and three occupants from the Mercedes were taken to hospital with serious injuries.
Lancashire Constabulary said there was no update on the condition of the four injured people.
Sgt Gareth Hill appealed for anyone who witnessed the crash to get in touch with them.