EA likely to approve fracking bid on the Fylde coast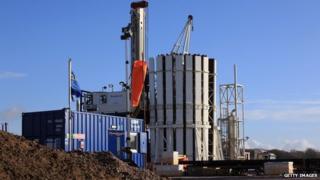 The Environment Agency has said it is inclined to grant permits to allow fracking at a site in Lancashire.
The agency said a resolution over Preston New Road, near Little Plumpton, is subject to public consultation which ends on 8 December.
The permits set out conditions needed to protect groundwater, surface water and air quality and to ensure the safe storage and disposal of wastes.
Energy firm Cuadrilla said it would comply with the safety guidelines.
Chief Executive Francis Egan said: "We welcome the announcement by the Environment Agency that it is minded to approve our permits.
"It comes at the end of a robust and rigorous review of our permit applications to ensure that, as we have committed, the local environment is well protected throughout our proposed exploratory operations.
"We will, of course, comply fully with their requirements for our proposed new sites."
Steve Molyneux, Environment Agency environment manager for Lancashire, said: "Our regulatory controls for onshore oil and gas are in place to protect people and the environment.
"We will not permit activities that pose an unacceptable risk.
"This further stage of consultation gives the public and interested groups an opportunity to see our decision making process and have their say on the draft environmental permits."
The EA will make a final decision in the new year, after studying the results of the public consultation.
In October, Lancashire County Council stated it needed more time to consider Cuadrilla's planning application to drill, hydraulically fracture and test gas flow at the Fylde coast site.
It had been due to rule on the proposal this month but said it needed to push the deadline back to 31 December.
In August, hundreds of protesters attended a six-day long camp near the site to campaign against shale gas extraction in the region.