National anti-bullying conference: Senior policeman says he was bullied at school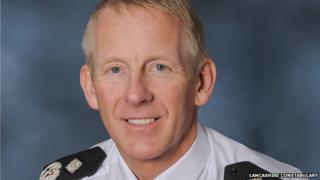 A senior police officer has spoken about being bullied while at school.
Andy Rhodes, deputy chief constable of Lancashire Constabulary, admitted he had been "quite violent to end it".
Ahead of a national anti-bullying conference in Blackpool, he told BBC Radio Lancashire: "I'm not advocating that but that's the sort of lengths that some kids have to go to."
About 300 young people are attending the Winter Gardens event, organised by the Diana Award children's charity.
'Pack mentality'
Mr Rhodes described how he started to be bullied when he moved from junior to senior school in the mid-1970s.
"You're different, and anything where you're different can attract the attention of people and attract bullying," he said.
"I can still remember the feeling in the pit of your stomach going to school on a Monday morning [...] It prevents you studying properly, it prevents you making friends and, from time to time, it did become quite violent.
"At the time there was a culture around where teachers were also complicit in it, which I think is not the case these days, and far from it, as you can see from the big campaign today."
The senior policeman also described how, as a boy, he did not want to talk about being bullied to his parents.
"The last thing I wanted… was my mum storming into school, clipping these kids around the ear. My dad [had] more of a 'put your shoulders back and stick one on them first in the bike sheds' [approach], which is conventionally what I had to do.
"But that gets you into trouble. That attracts the attention of teachers and it doesn't take much at school for you to slip off the radar, and it starts to affect your studies and all sorts of things."
He said he later became friends with some of the bullies: "I think it's a bit of a pack thing, I think it's sort of tribal, if you're not in this crowd, you're not one of us therefore we'll all pick on you."
In 2012-13, Childline said it counselled 44,766 young people about bullying.
Compared with the previous 12 months, the children's charity said it had been in touch with 87% and 69% more victims of online and racist bullying respectively.
Mr Rhodes said abuse via social media was "a massive area" for police.
"We're getting loads and loads of reports of people being harassed online or targeted on the Facebook sites, and kids being bullied and sometimes with really tragic consequences."
EastEnders actor James Forde and Britain's Got Talent finalists Bar and Melody, who sang about bullying in their audition for the ITV show, are also holding workshops at the event.