Royal Preston and Chorley hospitals 'must improve', says watchdog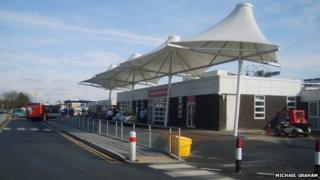 A Lancashire hospital trust is looking at ways of easing pressure on its services after a mixed inspection report from a health watchdog.
The Care Quality Commission (CQC) found the trust which runs the Royal Preston and Chorley and South Ribble hospitals requires improvement.
Staff were "compassionate" but pressure on beds was affecting patient care, the report found.
The trust said it was so busy, it was "inevitable" services were affected.
'Exceptionally busy'
Prof Sir Mike Richards, CQC's chief inspector of hospitals, said the inspection in July found the hospitals were clean with robust infection control practices and he praised its dementia and end of life care.
But he added: "Some patients were being cared for on wards that were not suited to meeting their needs. It had also led to patients being moved from ward to ward."
The trust must "continue the work to improve discharge processes and tackle staff shortages," he said.
Karen Partington, chief executive of Lancashire Teaching Hospitals NHS Foundation Trust, said she agreed with the findings but said the trust was "continuously caring for many more patients than we're set up to look after."
The region had lost 258 beds in the community which was affecting the safe discharge from hospitals, she said.
"We have many patients who require care out of hospital so when they are fit for discharge they are not always fit to go home. They need to go to residential or nursing homes."
Ms Partington added: "Despite doing everything we possibly can to deliver the highest standards of care, it is inevitable patient experience and timely access to treatment will be affected."
She added the report was "very positive" about the way the hospitals are run and the quality of care provided.