Weed threatens Lower Foulridge reservoir in Lancashire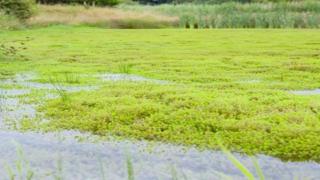 A "very invasive" alien plant species is threatening to "choke" a Lancashire reservoir, a waterway charity has said.
The Canal and River Trust said it was trying to kill off New Zealand pygmy weed on the shores of the lake in Lower Foulridge near Colne.
If it spreads, the weed forms dense mats which can block cause flooding, block out light for fish and affect sailing and angling.
The trust said it can grow up to 200 times faster than native plants.
Ecologist Tom King from the Canal and River Trust said: "It can grow up to three metres long in deep water and can cause problems for boats because it forms very dense mat.
"It is very difficult to get rid of.
"Our real concern is to stop the spread of the plant to other waters.
"If people get it caught on their shoes or even on a dog lead, the tiniest piece can grow into a new plant."
Mr King said it can cause "massive problems" so has appealed for visitors to the reservoir to make sure footwear and sailing or angling equipment is clean.
Lower Foulridge reservoir is a feeder reservoir for the Leeds and Liverpool Canal.