Hartlepool power station safe, says EDF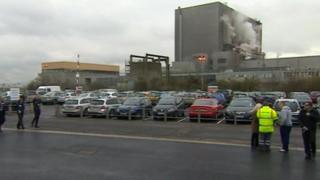 One of two nuclear power stations shut down after a crack was found in a boiler is safe to use again, regulators have said.
Electricity firm EDF temporarily closed down two of its nuclear power stations, Heysham 1, in Lancashire, and Hartlepool, Teesside, in August.
The Office for Nuclear Regulation (ONR) declared three of the four reactors safe but the fourth, at Heysham 1, requires further safety checks.
Hartlepool can now resume operations.
The problem was detected during a routine boiler inspection in June. EDF said it shut all four reactors at the two stations as a "precautionary measure" because they are of similar design.
In a statement, ONR said it was "satisfied that EDF has demonstrated the continued safe operation for these reactors".
"EDF intends to present a separate safety justification for Heysham 1 Reactor 1 which will be subject to independent assessment and will require formal permission from ONR before the reactor can return to service."
EDF Energy said at the time it closed the stations down its other nuclear power stations were not affected by this issue as they are of a different design.