Youth tribute after World War 2 Ribble Valley air crashes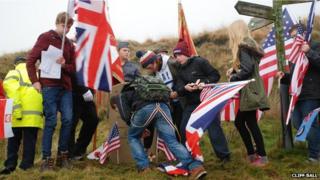 Eleven airmen who died in separate crashes in Lancashire in World War Two have been honoured by teenagers.
Memorial stones were unveiled and blessed at two separate sites in East Lancashire.
It is part of a project by Clitheroe Youth Forum to honour the 25 people, killed in 15 air crashes between 1940 and 1949 in the Ribble Valley.
The forum aims to place stones at all crash sites, ending next year with a memorial boulder to all 25 victims.
The first service was Pendle Hill at 10:30 GMT in honour of an Australian pilot, who died in 1942 and an American pilot who crashed in 1944.
Another service took place at Salter Fell at 12:50 GMT remembering nine airmen from USA, Australia, New Zealand and Poland who were killed in four crashes between 1940 and 1945.
Forum chairman Mel Diack, 61, said the young people had been researching local people killed in action during both world wars when they came across the stories of airmen who died in accidental crashes.
He said: "The young people have done a great job in researching these airmen.
"They should never be forgotten and the work that the group has done will go some way to make sure that the stories and the sacrifices of the past are passed on to future generations."
The services at Pendle Hill and Salter Fell follow those held at Langden Brook in October and form part of a series of dedication events planned to remember the 25 airmen who died in crashes in the Ribble Valley and Trough of Bowland.
A memorial boulder is to be placed next to Langdon Brook giving the names of all of these airmen in a Heritage Lottery funded project.