Fleetwood lake to be dredged of tonnes of sand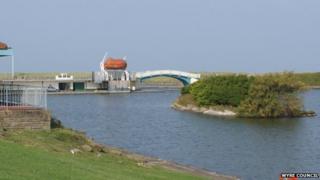 About 5,000 tonnes of wind-blown sand will be dredged out of a marine lake in Lancashire as part of a £1.5m project.
Wyre Council said the main lake on Fleetwood's seafront will then be drained for repair work so a "better range" of water sports can take place.
The 16-week project aims to "achieve consistent levels of water" after the lake is refilled, the council said.
Work is scheduled to begin on Monday. Once completed, the model yacht lake and paddling pool will be refurbished.
Councillor Peter Murphy said: "Around 5,000 tonnes of wind-blown sand is expected to be removed from the water and stored on site.
"Although black in colour, there is no need for concern. Wyre Council has been working closely with the Environment Agency to reassure the public that the material is perfectly safe."
The sand changed colour because it had been under water, the council said.