Pendle View staff suspended in mistreatment probe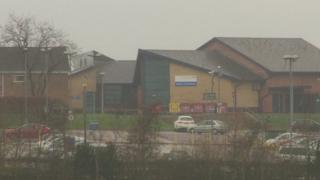 Six nursing staff have been suspended over an allegation a patient was ill-treated at a mental health unit, prompting a police investigation.
The patient was allegedly left screaming and covered in excrement for several hours at the unit in Blackburn on 22 November.
Police are establishing if there will be a criminal investigation.
Lancashire Care Foundation NHS Trust, which is in charge of the Pendle View unit, is also investigating the claim.
The unit is situated in the Royal Blackburn Hospital site but is run by a different trust to the hospital.
'Most vulnerable patients'
Dee Roach, director of nursing, said: "The trust is investigating a serious allegation that has been made about a patient not receiving the assistance that they required for their needs whilst in our care on Ribble Ward in Blackburn.
"Some members of staff have been suspended pending the investigation and the matter has been brought to the attention of the police.
"Our main priority is to ensure that the patient is now getting the level of care that they require and that they, along with their family are supported following this very regrettable situation."
A Lancashire Police spokesman said: "We are working with our partners within the Lancashire Care Foundation Trust to establish if this matter will be subject to a criminal investigation."
Russ McLean, chairman of Pennine Lancashire Patient Voices Group, said he will be speaking to the area's lead commissioners for mental health services to ensure there is a "frank and open investigation".
"Mental health patients are the most vulnerable patients we have," he said.