Preston judge race remark case shocks equality group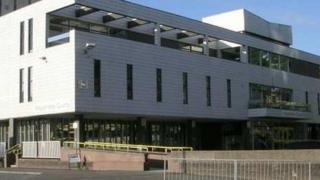 A senior race relations campaigner says he is "shocked and saddened" by racist remarks allegedly made by a judge about an Asian witness.
Faruk Desai, chief executive of Preston Racial Equality Council, said comments attributed to Peter Hollingworth amounted to "sweeping generalisation".
While discussing a case on 30 October, the judge allegedly said: "With a name like Patel, she can only be working in a corner shop or off-licence."
A formal investigation is continuing.
Mr Hollingworth has since resigned from his role as a deputy district judge and is currently "refraining" from immigration and asylum tribunal duties, the judiciary said.
'Astonishing'
His comments are alleged to have been made at a procedural hearing at Preston Magistrates' Court when a prosecutor was arranging a date for Miss Patel to attend court.
Mr Desai told BBC Radio Lancashire: ""I'm very shocked and saddened to hear such a sweeping generalisation which you would not expect to hear from a person of that calibre and within the judiciary system.
"You don't expect this kind of incident - but I hope this is not the norm but probably the exception."
Amjad Malik, an immigration lawyer who also chairs of the Association of Pakistani Lawyers in the North West, said of the judge's alleged remarks: "We as a society expect far more from our judges - that is why we are so surprised when we hear these kind of remarks.
"I think these things do happen in life but we expect propriety from members of the judiciary... from judges you expect them to be above prejudice.
"That is why these alleged remarks are so astonishing. I hope it's a one-off [because] we must take pride in our judiciary overall.
"Complaints are very low compared to the police and other law enforcement agencies."
Misconduct probe
On Sunday, a Crown Prosecution Service spokeswoman said HM Courts and Tribunals Service was contacted as the prosecutor considered the judge's words "to be inappropriate".
The prosecutor had been arranging a date for Miss Patel to attend court at the time the alleged comment was made by Mr Hollingworth, whose full name is Richard Terrence Peter Hollingworth but is known as Peter.
The Judicial Conduct Investigations Office's immigration and asylum tribunal section is now investigating the judge's alleged comments.
The investigation will look at a number of lines of inquiry including whether the judge's words amounted to racism, a spokesman for the team said.
He said: "The Judicial Conduct Investigations Office can confirm that Judge Terence Richard Peter Hollingworth has resigned as a deputy district judge.
"Any finding of misconduct and recommendation of disciplinary action... will be subsequently handled by the Judicial Conduct Investigations Office in accordance with the rules.
"He currently remains a first-tier tribunal judge at the Immigration and Asylum Chamber; however, he is currently refraining from all judicial duties."
Another judge, Peter James Michael Hollingworth, who also hears immigration cases and is a district judge in the same region is entirely unconnected with the comment under investigation and continues to preside in court.