Blackpool Airport reopens to small aircraft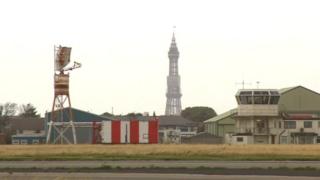 Blackpool Airport has reopened to small aircraft and helicopters.
Owners Balfour Beatty closed the airport on 15 October with the loss of 100 jobs after failing to find a buyer.
The airport licence to resume flights has been renewed after owners of aviation businesses based at the airfield set up Squires Gate Airport Operations Limited.
The licence covers limited commercial service but does not allow large carriers with commercial passengers.