Lancashire Constabulary: Warning over further £3.2m police budget cut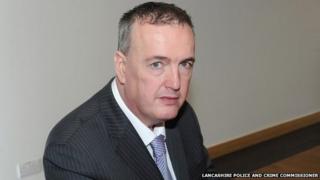 A further cut of £3.2m to Lancashire Constabulary's budget could result in it being a "response-only service", the county's Police Federation has warned.
The government has announced plans for a 5% reduction to budgets across all police forces in England and Wales.
Lancashire's Police and Crime Commissioner Clive Grunshaw said the extra budget cut was "madness".
Policing Minister Mike Penning said: "Police will still have the resources to do their important work."
'Dramatic changes'
He said: "We have made it easier for the police to do their job by cutting red tape, scrapping unnecessary targets, and giving them the discretion to use their professional judgement."
However, Rachel Baines, chairman of the Police Federation, told BBC Radio Lancashire the additional cut to next year's budget was a step too far.
"We will have to get to the jobs where people require us seriously; we will have to deal with those serious crimes and have to deal with increases in terrorism threats which [aren't] going away.
"Those are the things that have to be done."
But she warned: "Anything that doesn't have to be done I can see we will have to stop doing it."
Mr Grunshaw said: "We were preparing for £19m of cuts by 2017-18 but now it's going to be much more.
"The government keeps taking more and more and at the end of the day it is the people of Lancashire who will see dramatic changes to the way local policing is provided in the future."
He said Lancashire Constabulary had "managed the cuts well" and were looking to implement new savings initiatives such as improved digital engagement and online reporting.
However, he added, having to "find even more savings" was "quite unacceptable".
Lancashire Police has approximately 3,000 police officers.