Accrington Stanley tickets for 'virtual' Man Utd FA Cup tie sell out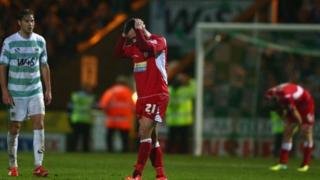 Souvenir tickets for an Accrington Stanley FA Cup tie which will never happen sold out within 36 hours, the club has confirmed.
The League Two side missed out on hosting Manchester United in the third round of the FA Cup after losing 2-0 to Yeovil in their second-round replay.
Despite this, Stanley said they were still producing 250 special-edition tickets, which have raised £5,000.
Club chairman Peter Marsden said 100 of them were sold to a fan in Brazil.
Phil Carruthers, originally from Accrington, moved to Brazil in 1960 where he eventually became managing director of the Copacabana Palace Hotel.
A keen football fan all of his life, Mr Carruthers said he had watched more than 1,000 games at Brazil's Maracana stadium.
"I have seen all of Brazil's legends, including Pele... but, in spite of all this, nothing in football has give me more pleasure than following Accrington Stanley and witnessing their heroic fight for survival against all the odds," he said
'Tongue in cheek'
Club chairman Peter Marsden said the idea for the limited edition tickets was "tongue in cheek" but the money generated will be used to help manager John Coleman and his assistant Jimmy Bell strengthen the squad.
"Thank you to everyone who bought a ticket to the game that never was. To sell out so quickly is no mean achievement.
"I know it is only £5,000 but it could be make all the difference between us being to get a player in on loan who can get us to the play-offs or missing out by a point."
Coleman said he hoped Stanley would ultimately get to play the 20-time league winners.
Manchester United beat Yeovil in the FA Cup third round on Sunday.