Blackpool Tower Ballroom has its annual spring clean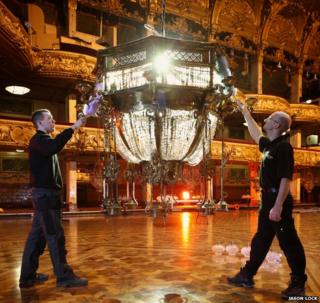 Blackpool Tower Ballroom is dusting off a year's worth of events with its annual spring clean.
A team of maintenance engineers will buff 14 Edwardian crystal chandeliers, check 1,120 lights and strip, sand and polish the 120 ft (37 m) floor.
General Manager Kate Shane said the two-week clean and maintenance work helps to preserve the ballroom.
She said it was a "colossal undertaking" but it "keeps the opulence and grandeur [of the ballroom] alive".
Blackpool Tower Ballroom hosted events including Blackpool Tower's 120th anniversary celebrations, the Lancashire Tourism Awards and Strictly Come Dancing.