Cuadrilla Lancashire fracking application report due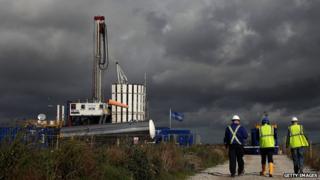 A key report about the future of fracking for shale gas in Lancashire is being published later.
Lancashire County Council planning officers are making recommendations on whether energy firm Cuadrilla should be allowed to frack at Little Plumpton and Roseacre Wood.
The authority said councillors should make a final decision by 30 January.
It is the first bid since fracking was suspended for being the "probable cause of earthquakes" in 2011.
If planning officers recommend fracking, it is expected councillors will approve Cuadrilla's application for both sites.
The recommendations will be published on the Lancashire County Council (LCC) website, but the final decision is expected to be announced after a meeting on Preston New Road site on 28 January and Roseacre Wood on 29 January.
The Environment Agency announced it had granted the company an environmental permit to frack at its Little Plumpton site on Preston New Road on Friday.
Fracking - or hydraulic fracturing - is a technique in which water and chemicals are pumped into shale rock at high pressure to extract gas.
The technique was suspended in the UK by the government in 2011 after fracking of shale gas deposits near Blackpool was linked to two minor earthquakes.
A government report published in June 2012 concluded fracking was safe if adequately monitored.
However, anti-fracking campaigners claim the process is harmful to the environment.