Lancashire fracking applications: Cuadrilla asks for deferral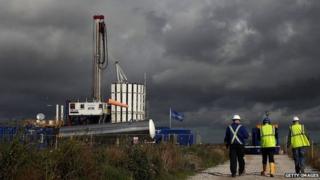 Energy firm Cuadrilla has asked that decisions on its fracking planning applications be deferred, a week before they were due to be made.
The company has applied to frack at two sites in Little Plumpton and Roseacre Wood, near Blackpool.
It follows Wednesday's report by Lancashire County Council planners recommending refusal because of noise and traffic problems.
Cuadrilla said it needed time to apply measures to address concerns.
The firm said in a statement: "Lessening any potential impact of our proposed operations on local residents is important to us."
It said it would apply a further sound barrier around the major parts of the drilling rigs to reduce night-time noise levels.
The company also said it had "agreed in principle" with Ministry of Defence for all HGV site traffic to go through the RAF Inskip site rather than through the villages of Wharles and Roseacre.
The county council's development control committee was due to consider the application in two two-day hearings.
The first, concerning Preston New Road site in Little Plumpton, was scheduled for 28-29 January and the Roseacre Wood hearing was due to take place on on 29 and 30 January.
The authority said the request to adjourn the hearing would "be given due consideration".
Cuadrilla's applications were the first since fracking tests near Blackpool were thought to be the "likely cause" of earth tremors in 2011.
Fracking - or hydraulic fracturing - is a technique in which water and chemicals are pumped into shale rock at high pressure to extract gas.
A government report published in June 2012 concluded fracking was safe if adequately monitored.
However, anti-fracking campaigners claim the process is harmful to the environment.