Cuadrilla fracking applications: Lancashire County Council defer decision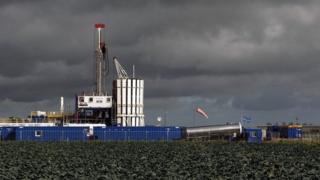 A decision on whether to allow fracking in Lancashire has been deferred by county councillors following a request from energy firm Cuadrilla.
The firm had applied to extract shale gas at its sites in Little Plumpton and Roseacre Wood, near Blackpool.
But Lancashire County Council planners recommended rejecting the application due to noise and traffic problems.
It was due to be discussed by councillors, but has now been deferred by eight weeks.
The council's chief legal adviser Ian Young said it would be "unlawful" for the planning development control committee to vote against a deferral.
He said: "If the committee were not to accept my advice, then in my view the applicant would have clear grounds for a legal challenge.
"The legal challenge would inevitably be successful, leading to both further delay and cost consequences."
He said Cuadrilla had provided "substantial additional information" to its applications, which require further public consultation.
Councillors voted 13-1 in favour of deferring the applications, with one committee member abstaining.
The council's report suggested applying a further sound barrier around drilling rigs and diverting HGVs to the RAF Inskip site to avoid site traffic.
Cuadrilla then asked for a deferral to address concerns.
Francis Egan, chief executive of Cuadrilla said: "We have provided what we believe is information on traffic and noise which we hope fully addresses the issues raised locally by communities and the planning officer."
He added: "We hope it will lead to a positive recommendation."
Chairman of the committee Munsif Dad said everyone who registered to speak for or against the applications will be invited back to the next meeting.
The committee was due to start a two-day hearing on fracking at the Preston New Road site, Little Plumpton.
Fracking - or hydraulic fracturing - is a technique in which water and chemicals are pumped into shale rock at high pressure to extract gas.
Friends of the Earth's North West campaigner Helen Rimmer said: "We are disappointed that councillors have granted a deferral when Cuadrilla have had several months to present their case, which Lancashire's planning officers have found to be unacceptable.
"Lancashire council must resist Cuadrilla's ploys to push fracking through and listen to the tens of thousands of voices of opposition and reject these plans.
"Failure to do so will leave Lancashire as the UK's guinea pig for this unnecessary and polluting technology."