Royal Blackburn Hospital A&E ward patient found hanged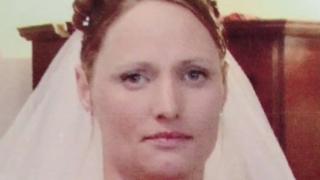 A Lancashire hospital is investigating how a mother-of-three was found hanged in a room off its A&E ward.
Jackie Williams, 42, was discovered in a side ward in the Royal Blackburn Hospital, early on Tuesday.
Her family said she should have been monitored because of a hospital admission after a drugs overdose in November and her history of depression.
The East Lancashire Hospitals NHS Trust said its sympathies were with her family "at this very difficult time".
The trust said it will be undertaking a "multi-agency investigation" into the circumstances leading to her death.
Family friend Chris Ashworth, who spoke on behalf of care worker Mrs Williams' husband Wayne, said: "It has hit the family very badly.
"In an accident and emergency ward - no matter how busy it is - there should have been priorities put in place.
"Jackie's past history should have been a warning sign."
The family said she had been seen by a mental health team since her November admission and should have been constantly observed following her admission this week.
The trust said it was unable to say anything more until the investigation had been carried out.