Lancashire County Council agrees £31m cut to 2015/16 budget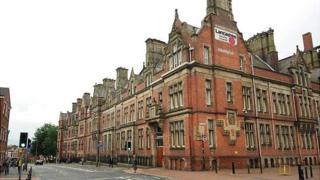 Lancashire County Council has agreed to reduce its budget by more than £31m along with a 2% rise in council tax.
The 4% cut in the total spend next during the financial year was confirmed at a full meeting of Lancashire County Council (LCC) on Thursday.
Social care - which accounted for half of last year's £758m budget - is expected to be hit hard.
Deputy leader David Borrow said the council would do all it could to "protect the most vulnerable".
In total, the local authority has agreed to save £152m by April 2018.
A council spokesman said: "The £31.3m cuts, when coupled with rising costs, means the authority has had to find savings of more than £100m for the coming financial year."
Labour's Mr Borrow added: "We have already made significant savings by introducing more intelligent and efficient ways of working and we will continue to do that.
---
Analysis: Chris Rider, BBC Radio Lancashire political reporter
This was a budget meeting the like we had not seen before - the sums involved hard to take in.
The decision to hold a consultation with the public over six weeks is hardly likely to have come up with any worthwhile solutions.
The Conservatives were unhappy at the increase in council tax but with the backing of the Liberal Democrats the Labour administration always had the votes.
Work is going on behind the scenes. The impact on the services for adult social care still a cause for concern given there will be fewer staff.
The council has already hinted that the authority will be smaller and selling buildings will be an option. The full impact on all its services will emerge later down the line with a very different county council.
---
"However, it is also clear that we will have to deliver some services in a different way and stop providing some services altogether."
He also said: "We will have to make savings in adult social care - over 50% of the budget is in that area. We've got outside consultants in at the moment looking at the way adult social care and children's care is delivered."
The authority announced earlier this month that it had generated a £52m windfall from investing in the financial markets.
Opposition leader Coun Geoff Driver (Conservative) said: "They don't need to make these savings - they should use this £52m windfall to put them off."