Lawyer's web comments apology to Owen and Karl Oyston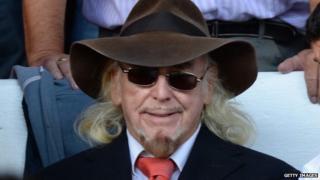 A director of a personal injuries law firm has apologised to Blackpool FC's owner Owen Oyston and chairman Karl Oyston for comments he made on the internet.
Tim Fielding, who specialises in civil litigation and employment law, had been sued for defamation by the Oystons.
Mr Fielding resigned as chair of the Blackpool Supporters Trust last month.
He posted his apology on Facebook, saying he withdrew his allegations "unreservedly".
Mr Fielding, a director of Blackpool-based BBE Law, wrote: "In recent months I have made several postings on fans' websites and social media (in my own name and under the pseudonym 'TwelveAngryMen') in which I have referred to Karl Oyston and Owen Oyston as having 'asset stripped' Blackpool Football Club; as having 'misappropriated football generated funds'; and as having made large personal profits by buying assets from BFC at one price and then selling the same assets back to BFC at a substantially increased price.
"I now regret making the allegations and unreservedly withdraw these allegations."
Mr Fielding said: "I recognise that my actions have, in view of my position as Chairman of the BST [Blackpool Supporters Trust] helped to generate hostility towards the Oyston family.
"With hindsight, I am clear that I should not have made those postings and I very much regret having done so."
Earlier this week, the Oystons confirmed they were seeking £150,000 damages from the website Back Henry Street over six allegedly defamatory comments in 2014.
Last week, dozens of Blackpool fans attended a court hearing in Manchester for a separate legal action brought by the Oystons against a fan.
David Ragozzino, 32, was given 21 days to respond to a claim for damages from the club.
On 30 January another fan, Stephen Sharpe, apologised to the Oystons over his online comments, withdrawing his posts after accepting they were "false, defamatory and, in some cases, threatening".