Killed Adam Rogers' dad appointed MBE at Buckingham Palace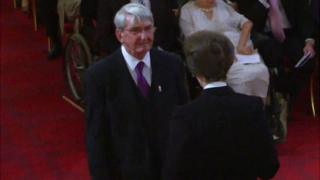 A man who set up a charity after his son was killed in an unprovoked attack on a night out has been officially appointed an MBE at Buckingham Palace.
David Rogers, 80, from Blackburn, founded the charity Every Action Has Consequences after his son Adam, 24, was killed by one punch in 2009.
He works with his wife Pat to warn young people about the dangers of becoming violent while out drinking.
He was among those collecting Queen's Birthday Honours from Princess Anne.
Afterwards, Mr Rogers said the investiture was an "amazing" experience.
"I know I am the recipient and I have got the letters after my name, but it was recognition of the work everybody has put into this charity, particularly Pat," he said.
"It is a tribute to everybody."
Adam, a ladies football coach, was punched by William Upton, from Rishton, after trying to act as peacemaker in a fight in Blackburn in 2009.
Upton, who was 16 at the time, was convicted of manslaughter and sentenced to four years in prison.
As well as his charity work, Mr Rogers, who has met his son's killer, has championed restorative justice where an offender comes face-to-face with their victim.