Probe launched at Alders Residential Home in Morecambe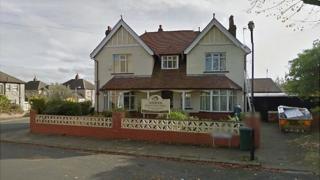 Police have launched an investigation into standards of care at a Lancashire care home.
Serious allegations have been made regarding the care provided to residents at Alders Residential Home in Morecambe.
Lancashire Police said they are working with the Care Quality Commission (CQC) and Lancashire County Council.
The allegations include concerns about staff recruitment practices and the security of the building.
A CQC spokesman said: "We are aware of the serious allegations at the home and have some concerns about the quality of service.
'Several concerns'
"We have visited the home very recently and identified several concerns including the levels of staffing, the security of the premises and the lack of robust recruitment practices.
"We are working with the local authority and police to ensure the people living at the home are safe and have their needs met in a timely manner."
In a statement, Lancashire Police said: "We have been made aware of concerns about the level of care provided to some residents at a nursing home in north Lancashire.
"Officers have begun making enquiries and we are at the very early stages of an investigation."
Lancashire County Council also confirmed it was involved in the investigation but declined to release further details.
The care home declined to comment when contacted and referred all enquiries to the council.