Student helped by homeless man gives £42k to Preston charity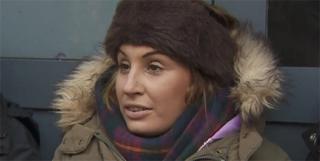 A student who embarked on a fundraising drive after a homeless man offered her his last £3 has handed over more than £40,000 to charity.
The man, known only as Robbie, offered Dominique Harrison-Bentzen cash for a taxi after she lost her bank card on a night out.
Miss Harrison-Bentzen, 22, refused, but said she was so touched she started raising money to help him get a flat.
She presented the money to Preston homelessness charity The Foxton Centre.
Fashion student Miss Harrison-Bentzen had initially hoped to raise £500 to help Robbie get off the streets.
After meeting him, the University of Central Lancashire student decided to raise money on behalf of a charity.
She chose the Foxton Centre because it was "local, credible and well-established."
"Robbie was very keen right from the start that any money over his need would go to help other people," she said.
"The experience has been overwhelming - I can't explain enough to people that when I started it was just a small goal.
"I just set a target of £500 which seems small now but at the time it seemed massive - I gave myself a week to do it and my mum said 'That's a bit ambitious'."
She asked people to donate £3 each and spent a night on the streets with people she had met through social media.
Tim Keightley, executive director of the Knowsley Street-based Foxton Centre, said the money would be used to house people who had been sleeping rough for a long time.
"We want to see what it will take to get each individual off the streets - it may be money for the first week's rent or furniture," he said.