Preston's Winckley Square Gardens £1m revamp revealed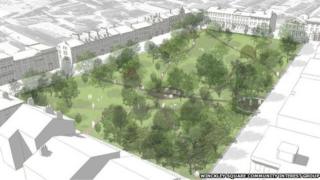 A £1m plan to "breathe new life" into a 19th Century park in Preston city centre has been revealed.
The Winckley Square Community Interest Company has put together proposals for Winckley Square Gardens which include repairing the Robert Peel statue.
Modelled on Georgian residential squares in London, the gardens were private until World War Two.
The plan will be submitted to the Heritage Lottery Fund and the Big Lottery Fund for approval.
Planning permission will also be sought from Preston City Council. Works could begin next year if it is granted.
---
Improvements plan
Create new plaques about the gardens' history
Reinforcing the turf in some areas so heritage and cultural events can be held
Prevent flooding in lower parts of the gardens with better land drainage
Improve lighting for security
Widening footpaths
---
The Winckley Square Community Interest Company was set up by businesses in the square to redevelop the area and has received some lottery funding.
Mick Goode, a director and co-founder, said: "I think we have an excellent interpretation of what the community wants and needs from Winckley Square.
"It tackles all the current issues surrounding usability and drainage while telling its wonderful heritage story."
Preston's heritage
Winckley Square was developed in 1812 and the garden plots were privately owned by some of Preston's wealthiest citizens who lived on the square.
The gardens became a public space after World War Two and, in 1951, formally became a public park.
In 1852, the Robert Peel statue was erected in the park, paid for by public subscription in honour of the former prime minister who sacrificed his political career to repeal the Corn Laws.
The company has worked with groups such as environmental charity Groundwork Lancashire and Wigan and the city council.
Ben Williams, project leader from Groundwork Lancashire West and Wigan, said: "We were keen to ensure that the project was driven by a genuine understanding and passion for Preston's heritage.
"We can be sure our plan has conservation and heritage at its core, while enabling a sympathetic improvement that will breathe new life into the square."