Blackburn stabbing: Rebecca Tootle jailed for killing friend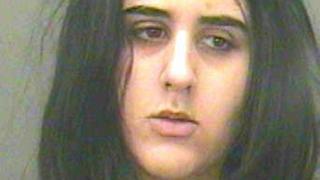 A woman from Lancashire who killed her 18-year-old friend and then used the knife on herself, claiming she was the victim, has been jailed.
Rebecca Tootle, 20, of Avenue Parade, Accrington, was convicted of manslaughter at Preston Crown Court.
Ashley Meadowcroft, 18, was found with a stab wound to his chest at a property in Fecitt Brow, Blackburn in September. He died later in hospital.
She was jailed for nine years followed by five years on licence.
Det Insp Andy Cribbin said: "Rebecca Tootle is a violent individual who took it upon herself to attack Ashley and then fabricate an account portraying herself as the victim.
"She armed herself with a knife, attacked him and then set about trying to justify what she did and never took any responsibility for her actions."
He said: "Prior to the attack she falsely claimed Ashley had a knife and immediately afterwards she said that she had disarmed him and then used the knife to inflict a minor injury upon herself in an attempt to defend her actions."