Sgt Dan Allanson: RAF winchman honoured for bravery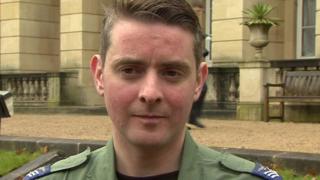 An RAF winchman who plucked a fisherman from the sea in atrocious conditions has been honoured for bravery.
Sgt Dan Allanson, from Burnley, Lancashire was awarded the Queen's Gallantry Medal for the night-time rescue near the Falkland Islands.
The search and rescue winchman was part of a four-man team called to rescue the fisherman lost overboard 60 miles north-east of East Falkland last July.
The crew found him after using a combination of rescue techniques.
They used radar and estimated where the ocean drift would have carried him following the initial report of a man being in the water.
'Dangling like a conker'
During a second sweep of the area, the fisherman - who had been in the water for three hours - was located using the aircraft's searchlight.
Sgt Allanson was winched down to him, "dangling like a conker" as the sea was surging with 45ft (14m) high waves and torrential rain.
"Our priority was to get the guy out of the water, it was pretty horrific weather, but all the training kicks in," he said.
"I tried to get him out of the water as quickly as possible as it's difficult for the guys in the aircraft because they're trying to maintain a hover.
"I struggled at one point because the cable got wrapped round my leg so I had to let go of the guy to untangle it.
"The only thing I was concerned about was whales, as it was dark and stormy water. I was more worried about something brushing against my leg in the water."
Sadly, the fisherman was later declared dead in hospital.
Sgt Allanson was one of 14 members of the armed forces awarded medals at a ceremony at Lancaster House in London in recognition of their courage and service.