Blind Taser mistake victim backs stun gun review call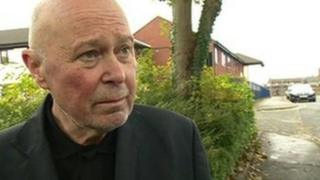 A blind man who was shot with a stun gun when his white stick was mistaken for a sword has backed calls for a review into the use of Tasers.
Lancashire Police apologised to Colin Farmer, 61 and of Chorley, after the October 2012 incident.
David Blunkett, who introduced Tasers when he was home secretary, is asking if there are alternatives available.
More than 400 children in England and Wales had Tasers aimed at them in 2013, according to figures seen by BBC News.
Mr Farmer said he now has post-traumatic stress disorder (PTSD) and had been left "very nervous".
"I want what happened to me to start changes and prevent it from ever happening again," he said.
"The police officers who carry these Tasers should be personally responsible for their actions, not hide behind the umbrella of being the police."
Mr Farmer described being Tasered as feeling like he was "grabbing an electricity pylon".
An investigation by the Independent Police Complaints Commission said the police officer who shot him has "used a level of force that was unnecessary and disproportionate".
Following a disciplinary hearing in 2014, the officer was told to apologise to Mr Farmer in person and given an "performance-improvement notice".