Diamond ring burglars sought by police in Blackburn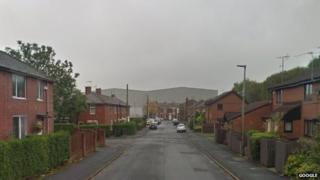 Burglars who stole computers and jewellery, including four diamond rings, are being sought by police.
The offenders broke into a house on Hollin Street, Blackburn on Wednesday between 17:30 and 20:00 GMT, Lancashire Police said.
They entered after breaking through the kitchen window, and took three diamond rings, a diamond Playboy ring, a white gold wedding band and two laptops.
PC Ihsan Ali said: "This burglary has left a family devastated."
"The majority of the items that were stolen were of huge sentimental value, particularly the laptop which had the homeowner's son's coursework from the past seven years of studying saved on it."
The offenders also stole gold bracelets, five gold chains, earrings and a watch.
An iPad, a Samsung Galaxy mobile phone, a laptop bag, and a bottle of prescribed medication were also taken.
"I urge anyone with information about this incident, or similarly anyone who may have been offered any of the stolen items for sale, to get in contact with us so that we can try and reunite this family with their treasured items," PC Ali added.