Leonora Carrington: A surreal trip from Lancashire to Mexico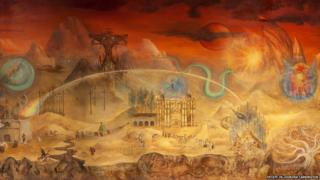 Artist Leonora Carrington left her life in rural Lancashire at the age of 18 to become an important figure in the surrealist movement. But how did a girl from Chorley, whose northern English roots lingered in her work, end up as one of Mexico's national treasures?
Born in 1917, Carrington led a stifled family life as the daughter of a wealthy textile manufacturer before turning her back on both her family and their wealth to study art in London.
She moved to Paris and Spain, before eventually settling in Mexico City in the early 1940s, where she died in 2011 a "national treasure" in the country she made her home.
A new exhibition of her work at Tate Liverpool not only reflects the influence her adopted country had on her paintings, but also explores the role her Lancastrian background played in her work.
Professor Roger Shannon, from Edge Hill University, helped put together the display and says her upbringing had a significant impact on her work in numerous ways.
"The Lancashire environment of strange legends and witchcraft - such as the Pendle Witches - fed into her creativity, and is evident in the repertoire of female imagery she presents in her paintings," he said.
"Also, one of the houses where she lived - Crookhey Hall - is depicted numerous times in her paintings, and its gloomy dark gothic interiors left their mark on her imagination and on her memories of childhood.
"And from her Irish nanny and her Irish born mother, the young Leonora was introduced to tales and folklore resonating with Celtic mythologies; the mental pictures she took from such storytelling turned later into sketches and paintings."
The exhibition's assistant curator Lauren Barnes agrees that Lancashire had an "impact" on the artist, but says it was not always a positive one.
"In one sense, it provided the stifling, traditional setting that compelled her to rebel and travel to London and on to Paris, marking a break from her past.
"Depictions of the English countryside and its traditions, clearly inspired by her childhood, materialise in her work, often connoting rigidity and structure."
Carrington moved to France with her lover, surrealist Max Ernst, in 1938, and became friendly with other artists working in the field, including Salvador Dalí, Marcel Duchamp, Joan Miró and Man Ray.
After Ernst was interned by the Nazis in 1940, Carrington fled to Spain where Prof Shannon says she suffered a mental breakdown and spent a "brutal" time in a lunatic asylum.
Her family sent a nanny in a submarine to rescue her, but she avoided an underwater return to England by travelling to Mexico, where far from the war in Europe there was a "tolerance" to artistic and political exiles.
"Mexico City in the mid-20th Century was an extremely creative and experimental climate, affording her opportunities to experiment in tapestry-making, writing, design for theatre and film, and collaborations with photographers," says Ms Barnes.
The artist's move, she added, represented an even greater 'awakening' than her first exposure to surrealism in London and the traditions and culture of Mexico chimed with the themes surrealists were already exploring - particularly those surrounding death and religion.
What is surrealism?
Surrealism was a movement which began in the 1920s
Its movers and shakes included a group of writers and artists, most notably Salvador Dalí, René Magritte and Joan Miró
Those exploring it experimented with ways of unleashing the subconscious imagination
There was no single style of surrealist art but two broad types can be seen
One was the oneiric (dream-like) work of Dalí, early Ernst, and Magritte
The other was automatism (free association) of the type seen in work by Miró
Source: Tate Liverpool
"It's a place that the surrealist Andre Breton described as 'the surrealist place par excellence' and she was absolutely fascinated by its culture," she says.
"The belief of the co-presence of the living and the dead that you see in celebrations like the Day of the Dead and the multitude of beliefs that worked together like Catholicism and Christianity was [part] of her work.
"She was someone who was hugely excited by Mexican history and culture and the way she explored it and reflected it in her work went down well in Mexico."
Carrington was part of a group of predominantly Mexican artists commissioned to produce works to reflect the country's culture.
The result was that despite not being so well regarded in her home country, she virtually became a national treasure in her adopted country.
"She was really seen as a Mexican artist," adds Ms Barnes. " She was commissioned to paint this incredible mural for Mexico's National Museum of Anthropology because she was really seen in that way."
The Tate exhibition is the first time the 15ft (4.5) mural, The Magical World of the Mayas, has been on display outside Mexico. It is also the first time her work has been shown in England since 1991.
Prof Shannon's hope is the exhibition goes some way to redressing the lack of appreciation for her work in England and honour a "significant aspect of the North West's cultural heritage who has been under-recognised".
Ms Barnes believes it will celebrate the work of a woman who didn't have the opportunity as a female expat to exhibit in her home country.
"Everything in the show does strike us as foreign, but that proves the point that she departed so far from where she came from.
"The exhibition will go a long way to understanding the expansive trajectory of her work and it does feel appropriate that the show is happening so close to where she was born.
"It feels like it's about time to look at her legacy."
The exhibition of works by Leonora Carrington is at Tate Liverpool until 31 May.